Today (21/3), Deputy Minister of Transport Le Dinh Tho received and worked with Ambassador of the Republic of Belarus to Vietnam Vladimir Goshin.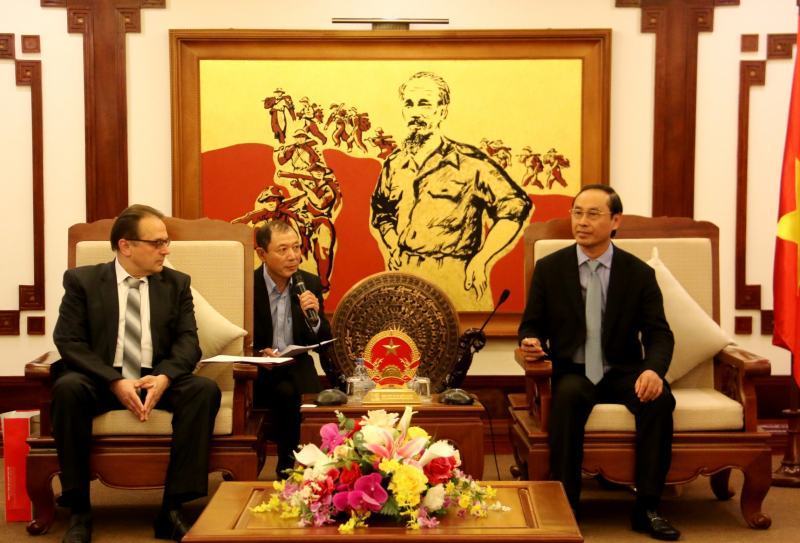 The two sides agreed to intensify the exchange of information to facilitate businesses in importing Belarusian cars into Vietnam
The two sides discussed the implementation of Decree No. 116/2017 / ND-CP stipulating the conditions for production, assembly, import and trading of automobile maintenance and warranty services. 17/10/2017; Circular 03/2018 issued by the Ministry of Transport to guide the implementation of Decree 116 on quality, technical safety and environmental protection for foreign cars, effective from March 1, 1818.
Ambassador Vladimir Goshin said that Belarus is ready to meet the legal requirements of Vietnam in accordance with Decree 116. Based on the Protocol between the Government of Vietnam and the Government of Belarus on supporting the production of means of transport motivated in the territory of Vietnam (signed March 23, 2016), Belarus is establishing a joint venture car production "MAZ-Asia" in Vietnam. The Belarusian government attaches great importance to the success of this joint venture, considering it an important milestone in the cooperation with Vietnam in the economy in general and the transport sector in particular. 
Hiện Belarus đang gấp rút hoàn thiện các thủ tục liên quan đáp ứng các quy định tại Nghị định 116/2017/NĐ-CP để nhập khẩu ô tô nguyên chiếc vào Việt Nam. "Belarus mong muốn nhận được sự hỗ trợ của Bộ GTVT đối với hoạt động của liên doanh sản xuất ô tô "MAZ-Asia" cũng như hướng dẫn và cấp các Giấy chứng nhận  kiểu loại ô tô của Belarus để có thể nhập khẩu vào Việt Nam", Đại sứ Vladimir Goshin đề nghị.
Deputy Minister Le Dinh Tho said that the Ministry of Transport highly appreciated and welcomed the establishment of automobile joint venture "MAZ-Asia. MOT will continue to create favorable conditions for Belarusian businesses in general and joint venture "MAZ-Asia" in particular. Regarding the form of certificate in accordance with Decree 116, Deputy Minister Le Dinh Tho affirmed that the Ministry of Transport is ready to guide the regulations, forms of the certificate of Vietnam to Belarus. "The Ministry of Transport assigns the Vietnam Register and the Department of Science and Technology to chair and consult the agencies of Belarus," Tho said.